Myth, Magic and Memoir postponed, 2020
Business to Books
Join us May 4 – 8, 2020 for an intensive book creation week – postponed, of course it is.
You've got the idea (likely you've had the idea in your energy field for a looong time), you've got the desire to create this work of art, you've got life experience and imagination, PERFECT!
We have the tools and are here to share them with you, we have the skills to help you shape your story, we have the experience to treat you, your process and your work with care, individual attention and to awaken your genius, and we have devotion to our Soul's purpose, to run, walk or skip beside you to the finish line and beyond.
https://www.sonomahealingpress.com/
Presenters – Catharine Bramkamp, C. S. Lakin, Shama Beasley
Mission: To be of service to the women who show up for themselves and each other by offering our unique genius to the extent of our capacity.
Monday – Day long Memoir workshop. Presenter: CS Lakin
Tuesday – Day long Fiction workshop Presenter: CS Lakin
Wednesday – hands- on workshops: Presenters CS Lakin and Catharine Bramkamp
9:30 – 10:30 Presentation – Catharine Let your characters talk! How to use journaling to channel your characters and create authentic voices.
11:00 – 12:00 Fiction or Memoir workshop
11:00 – 12:00 Catharine Consultation appointments (additional fee)
1:30 – 2:30 Workshop – Inviting the Muse. How to work through creative blocks, generation new ideas and scheduled inspiration.
3:00 – 4:00 Fiction or Memoir Workshop
3:00 – 5:00 Catharine Consultation appointments
Thursday – Business to Book Presenters Catharine and Shama
9:30 Intro – why a book is good for business
10:00 Find your purpose for the book – workshop
10:45 How to discover your voice and authority
What do you want to say.
Who is your audience?
Noon – lunch
1:00 Discover your material.
What have you already written? Discover that material and start to repurpose (don't worry there is a process and we will help)
2:00 Schedule the writing, break down the process.
3:00 Write your first chapter
4:00 General mayhem and panic.
4:05 Wine
Friday – Business to Book continued
9:30 How to Publish the book
Introduction to Sonoma Healing Press
10:00 Book cover designs, outlet and solutions
11:00 Development editing and copy editing and why they aren't the same.
Riding down the Amazon
Noon – lunch
1:00 – Promotion, where to find your tribe.
2:00 putting it all together – how to schedule the writing, how to schedule the pre and post promotion efforts.
3:00 – How to schedule promotion and social media
4:00 Wine
Interested? Contact me for the prices and logistics. Also, visit Writing for Life Workshops for more information about this and our other workshops this year!
How would you like to master scene structure in three days?
What if you could take your killer idea for a novel to a complete plot outline in three days?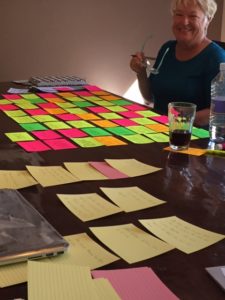 Our intensive boot camps are like no other. We pair intensive instruction with relaxation and fun. Great food and fellowship, small groups and personalized attention, professional help and critiquing to master the craft of fiction writing.
All our boot camps are set in beautiful areas in California, perfect places to enjoy nature, clear your head between boot camp sessions, and be inspired to write.
Click on the events you're interested in, and register!
Space is limited, so book your spot in one of our boot camps today!
Come immerse yourself in a beautiful setting, with supportive writers in an intimate small group, and take your writing to the next level!
"The boot camp was a great opportunity to have uninterrupted time to plot my novel. Susanne is so knowledgeable and freely shares info and material. I highly recommend it!" ~ Margaret Austin
"This was my second workshop put on by C. S. Lakin and Catharine are terrific teachers! She is a terrific teacher and writes the best 'how to write' books on the market. Getting to work with her in person is an amazing experience. I highly recommend her workshops for anyone who really wants to learn how to write and to get a chance to work directly with a great teacher and a room full of very talented writers." ~ Ed Markel –
"Attending the Plotting Madness boot camp was amazing. I thoroughly enjoyed it and came away with a completed outline for my novel. I recommend the boot camp for writers of all levels." ~ Linda Childers
"I don't have enough superlatives to describe how valuable this experience was to me. Thank you, Susanne." ~ Tim O'Neill
Theme: Retreat
South Lake Tahoe, NV: Sept. 2020
World Buildling
Carmel, CA: Nov. 2020
Learn More